Frost Protection
Sprinkler Systems for Frost Protection
Placing Control In Your Hands
Efficiently and precisely irrigating vines and protecting them from
spring frosts not only ensures that fruit grows to the optimum size and
flavour, it saves money too. Enjoy cost effective and water efficient
irrigation and frost protection with a bespoke control and automation system that suits your individual requirements and budget.
Why choose a Sprinkler system?
Target specific zones
Low investment cost per hectare
Significant savings on operating costs compared to other systems
Long life span of materials, sprinklers, and the control system
Works for both advection frost and radiation frost
Can be combined with our drip irrigation system to irrigate and fertigate vineyards
Environmentally friendly
Low noise and zero fumes during operation
Prevents against frosts down to -8 degrees
With the correct water hydraulic calculations, the system will offer the same level of protection across the entire protected area
How does it work?
The temperature of the water being sprayed is higher than the air and the vine, creating a warmer microclimate around the vine itself.
The water sprayed creates a thin layer of ice and as the water freezes, latent heat is released. As long as the water is continuously applied, the freezing process will continue.
The ice layer creates a barrier around the plant and as it is continuously freezing it will release heat. This ensures the bud doesn't reach the damaging low temperature of the air.
Plantex 360 automation gives you the option to target specific sections in your vineyard which are affected differently by frost. The use of in-field sensors means the system will automatically detect your specified temperature and humidity level, giving you peace of mind that your water and energy usage is as minimal as possible. Saving on time, labour and water/energy usage.
We stock and install two types of Frost Protection sprinklers, the 'Pulsar' and the 'Flipper'. Both systems reduce incidences of frost damage to crops very effectively.
Pulsar™ Sprinklers
Effective frost protection: Delivers several pulses of water per minute, ensuring continuous watering over a large area for many hours.
Water and energy efficient: Specially designed to use less than 50%-70% of the water required by full-coverage sprinkler systems, it protects larger areas with a given amount of water and saves energy consumption too.
Lowest system cost: Pulse technology enables great water coverage with the lowest possible flow rate – lowering operating costs by up to 30% compared to other systems.
Uniform water distribution, irrespective of topography: Achieves optimal results even with sloping terrain and long laterals due to a unique flow regulation mechanism.
Low maintenance, high performance: Pulsar emitters are simple to install and are made to withstand agrochemicals and adverse weather conditions.
Ability to apply water to only the treeline lowering wastage.
Flipper Sprinklers
Spreads water in a very long and narrow strip, targeting the vine rows only
Saves up to 70% of water compared to conventional overhead systems
Large droplets minimize the cooling effect when starting the system
Safe operation under frost conditions
Optional flow regulator for hilly terrain or long rows
Low installation and pumping costs
Dry pathways reduce waterlogging and facilitate access for workers and equipment soon after operation
Our 'Flipper' sprinkler system uses water effectively, which is beneficial to both you and the environment. Combined with our 'Drip Irrigation System', you can protect your vines from extreme weather changes in the UK, such as sudden drops in temperature and droughts.
Control Boxes
One of the key factors in operating a successful frost protection system is the control equipment. We build bespoke systems for each specific site and project where we ensure all elements work together correctly. Therefore, we build everything into one easy to use control system.
Here are some of the key areas that our system can control;
Borehole pumps
Sub pumps
Rainwater harvesting
Water transfers
Reservoir or tank filling
Aeration for large water areas
Filter management and cleaning
Pump control and monitoring
In field valves, pressures, and flows
Dew point sensors
Auto system operation
Alerts and monitoring
Data collection
App control
Pump Houses
Our pump houses are built to specification for each project, this can either be in an existing building or we can provide a timber building on a galvanized steel frame, this allows for the fit out of the pumphouse to mostly be carried out on the Plantex site and then the complete unit is transported to the project site, the connections are made and the pumphouse is commissioned for use.
Our purpose made units are built to a high specification and include:
Tanalised timber
Galvanised steel base
Fibreglass roof
Steel security door
Optional extras can include lighting and soundproof insulation
Water Storage
The water supply and storage of water is a vital part of the system, there are many options and solutions available for this. A site visit is usually needed to work out the best option for the project. The volume of water storage required is calculated from the size of the vineyard needing frost protection and by how quickly the water supply can re-fill the storage area.
Some typical solutions include:
Bore holes
Pumping from rivers or streams
Rainwater collection
Plastic tank storage
Steel tank storage
Reservoirs
How Do Our Systems Compare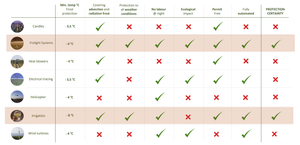 See One Of Our Flipper Systems In Action
What our customers have to say
★★★★★

After four years the system is still working well and has saved our crop many times.

NIAB EMR
★★★★★

Judging by the extent to which the buds have now burst, I can say without fear of contradiction (and judging by the devastation wreaked on my Wisteria) that the Plantex system saved this year's crop on its first day of operation.

Neil Bainbridge

Vineyard Owner
Know what you need?
Visit our online store for the best quality irrigation and control products including a wide range of fittings and parts. All delivered anywhere in the UK.