Frost Protection
Infrared Systems for Frost Protection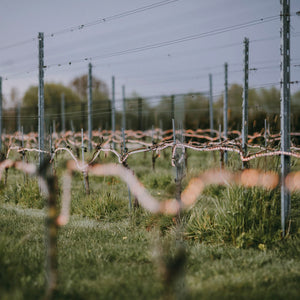 How does it work?
Our system automatically switches on and off at pre-set temperatures. No more labour intensive nights.
Consists of separate modules which are connected by waterproof connectors. The system can therefore be extended infinitely according to your needs.
The uniform distribution of the infrared module results in more efficient energy distribution. FROLIGHT® is unique in the market in this respect.
FROLIGHT® works with infrared radiation as a heat transfer medium. This means that unlike traditional methods, there are no major energy losses, regardless of wind or rain. You therefore always have guaranteed protection.
The electrical system is environmentally friendly. Local residents do not encounter any noise or odour nuisance.
Control Systems
One of the key factors in operating a successful frost protection system is the control equipment. We build bespoke systems for each specific site and project where we ensure all elements work together correctly. Therefore, we build everything into one easy to use control system. Additionally we can supply, install and maintain a wide range of generators. Our generators are all modified to enable the auto-start functionality required with the in-field sensors.
How Do Our Systems Compare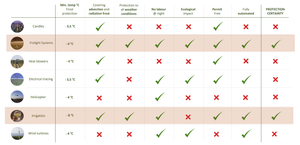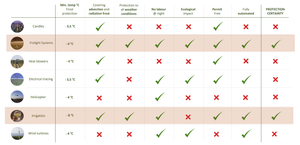 What our customers have to say
★★★★★

"Thanks for this system, I have 70% more healthy shoots than last year"

Bart Vanryckemghem

Wine Estate/Craft Brewery Leeflank
★★★★★

"Despite four long nights of frost on the coldest part of the vineyard, there is no damage"

Herman Troch

Domein De Kluizen
See One Of Our System In Action
Know what you need?
Visit our online store for the best quality irrigation and control products including a wide range of fittings and parts. All delivered anywhere in the UK.